Feature Review Q3 2023
Discover the latest feature updates on the SmartRoutes platform for Q3 2023. From improved customization capability to and even better user interface, learn more about SmartRoutes.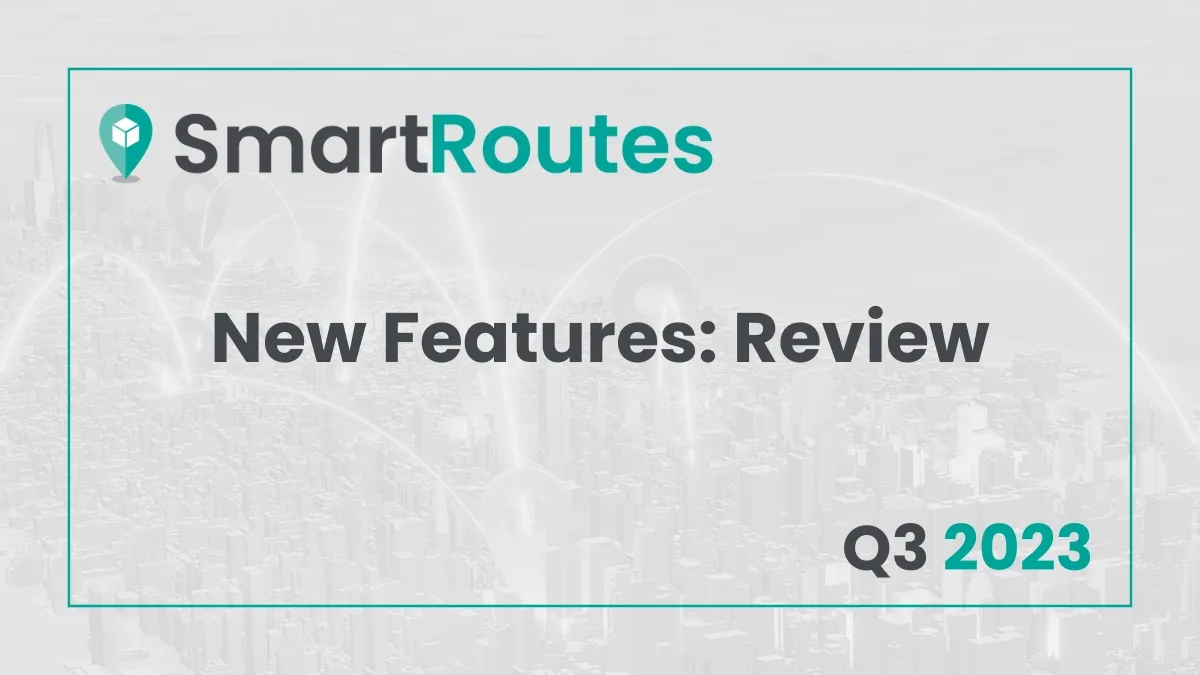 Welcome to our feature review for the second quarter of 2023! We are thrilled to share with you the latest enhancements and newest features that have been added to our platform.
At SmartRoutes, we are committed to continuously improving our services to provide you with the best possible route optimization and logistics solutions.
For those of you who have been following our Changelog, many of these updates may already be on your radar. However, if you haven't had the chance to review the newest updates or you're new to SmartRoutes, then we hope this article helps as we explore some of the most significant platform developments of this quarter.
Print Labels from the Orders Screen
When you select a specific order, simply click on the 'Labels' button that appears, and from there, you can choose from a range of templates to suit your needs. Customize the label as desired to align with your branding and requirements.
With just a few clicks, your label is ready to be printed, eliminating the need for exporting data to external software. This new functionality not only streamlines your workflow but also reduces the likelihood of errors, making your labeling process more efficient and error-free.
Stops Panel
Our Stops Panel has recently undergone a significant update, aimed at making the process of managing stop information smoother and more user-friendly.
With this update, adding and editing stops is now a streamlined and intuitive process. Whether you're scheduling deliveries, planning routes, or organizing service calls, the new Stops Panel simplifies stop input and modification.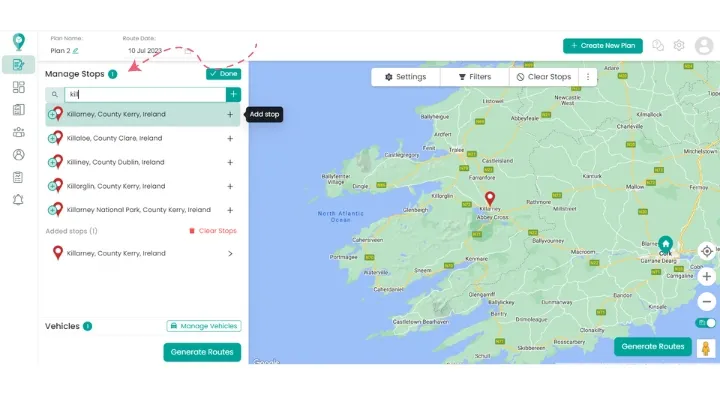 Insert Stops
We have simplified the process of adding extra stops to your created routes. When you enter edit mode by clicking the "Edit" button on a created route, you'll find the "Insert Stops" option.
Whether you need to accommodate new deliveries or collections, this tool simplifies route adjustments. You can also rearrange your existing stops by simply clicking on a stop and dragging it to its new position in the route, while in edit mode.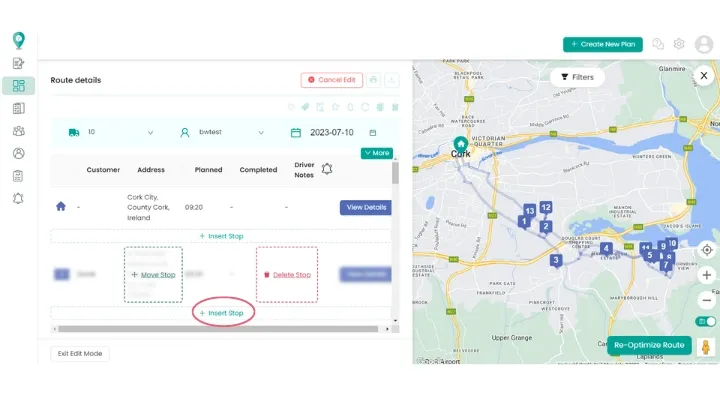 Max Stops Per Vehicle
With the new "Max Stops Per Vehicle" feature, you can set the maximum stops for each vehicle individually, allowing you to fine-tune your route planning process with precision. You can do so by accessing the vehicle settings menu.
This setting will override the default maximum stops, making it particularly valuable for businesses with larger teams or a diverse fleet of vehicles with varying capacities. This feature gives you the flexibility to optimize routes according to each vehicle's capabilities, ensuring a balanced workload among your drivers and enhancing the efficiency of your operations.
Updated ETA
Our new "Updated ETA" feature on the live tracking screen is a game-changer for real-time route monitoring. Now, you can effortlessly switch between the planned estimated time of arrival (ETA) and the Updated ETA, providing you with more accurate and dynamic information based on driver progress. Whether your drivers are making swift progress or facing unexpected delays, these updates are instantly reflected in the Updated ETA.
While the updated ETAs can still fluctuate based on time spent at upcoming stops, the "Updated ETA" feature offers a level of responsiveness that's essential in the dynamic world of logistics.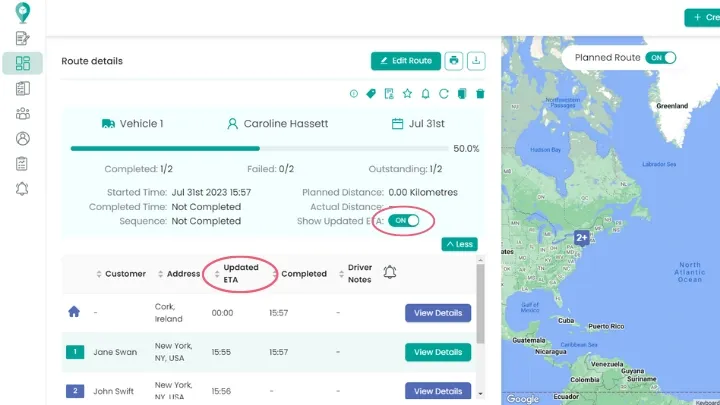 Integration Label
For our customers already utilizing SmartRoutes with their Shopify or WooCommerce websites, we're thrilled to introduce a helpful addition: the Integration Label. This label acts as a visual cue, serving as a clear indicator that your e-commerce integration is active and fully operational.
For those in the process of setting up SmartRoutes and integrating it with their Shopify or WooCommerce site, the appearance of this label shows that your integration has been seamlessly configured and you're now ready to unlock the advantages of efficient order management and streamlined delivery planning.
Settings Menu
One of our largest updates to the platform has been our newly redesigned settings menu! The most noticeable change is the sleek and modern design, making it not only visually appealing but also more intuitive to navigate.
We've taken a user-centric approach, focusing on optimizing your experience by ensuring that accessing and modifying your preferences is effortless. We have introduced additional functionality to the settings menu, offering you more control and customization options.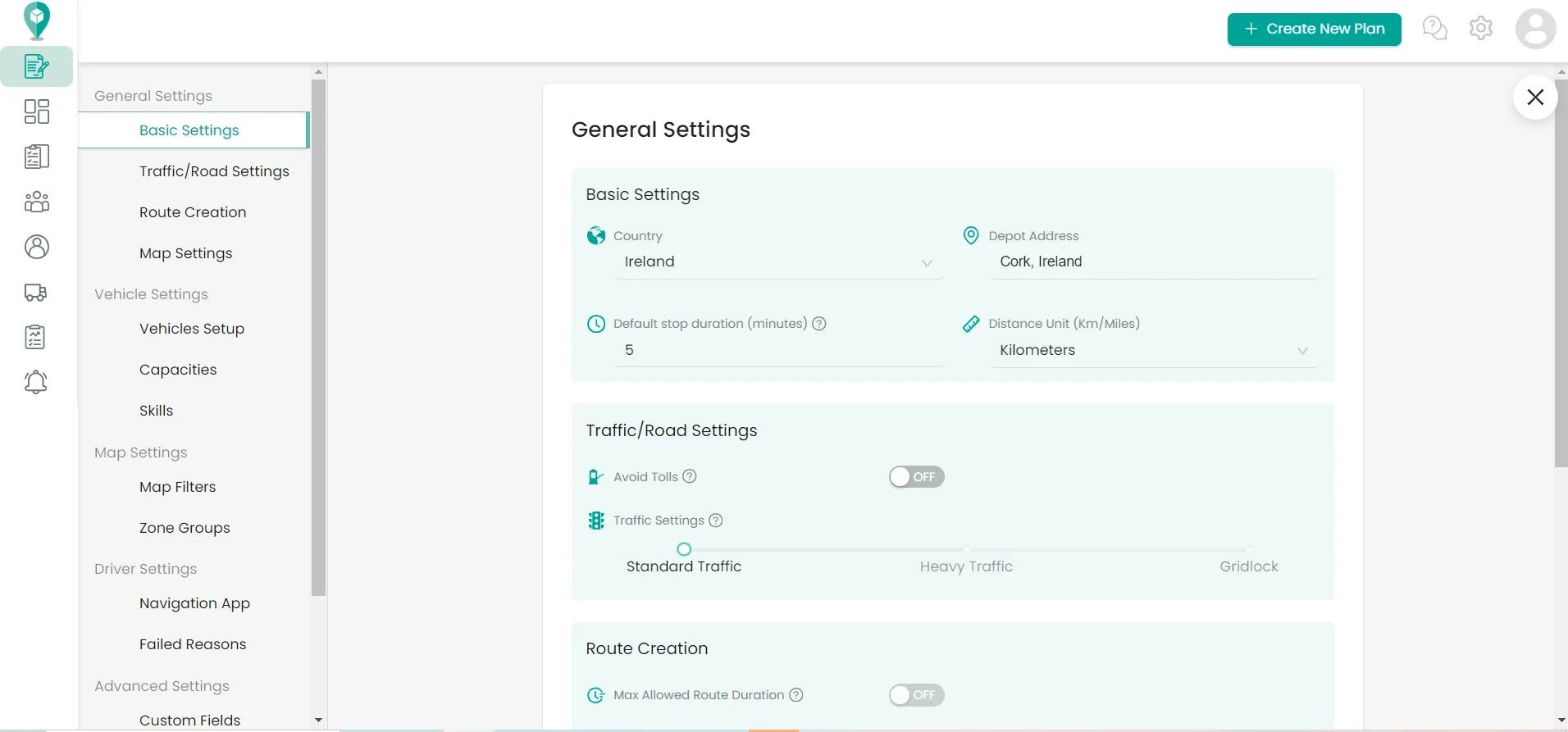 Transform Your Delivery Process with SmartRoutes
Make sure to stay up-to-date with our latest features by following our changelog, where we provide weekly updates on enhancements and innovations to the platform!
We have also recently added guides to our website! But wait, are these guides exclusively for new users? Absolutely not! Our comprehensive step-by-step guides cater to both new and seasoned users, making them valuable resources for everyone. Whether you're just getting started with SmartRoutes or are a regular user, these guides are designed to assist you in getting the most out of our platform.
If you haven't yet experienced the benefits of SmartRoutes, we invite you to sign up for our 7-day free trial. It's an opportunity to see firsthand how our platform can transform your delivery process, saving you both time and money. If you have any questions or would like a personalized demo of our system, please don't hesitate to book a demo with our team.
If you enjoyed this blog, you might also be interested in: