Feature Review Q2 2023
Discover the latest feature updates on the SmartRoutes platform for Q2 2023. From system improvements to feature launches, these updates will help you streamline your delivery process.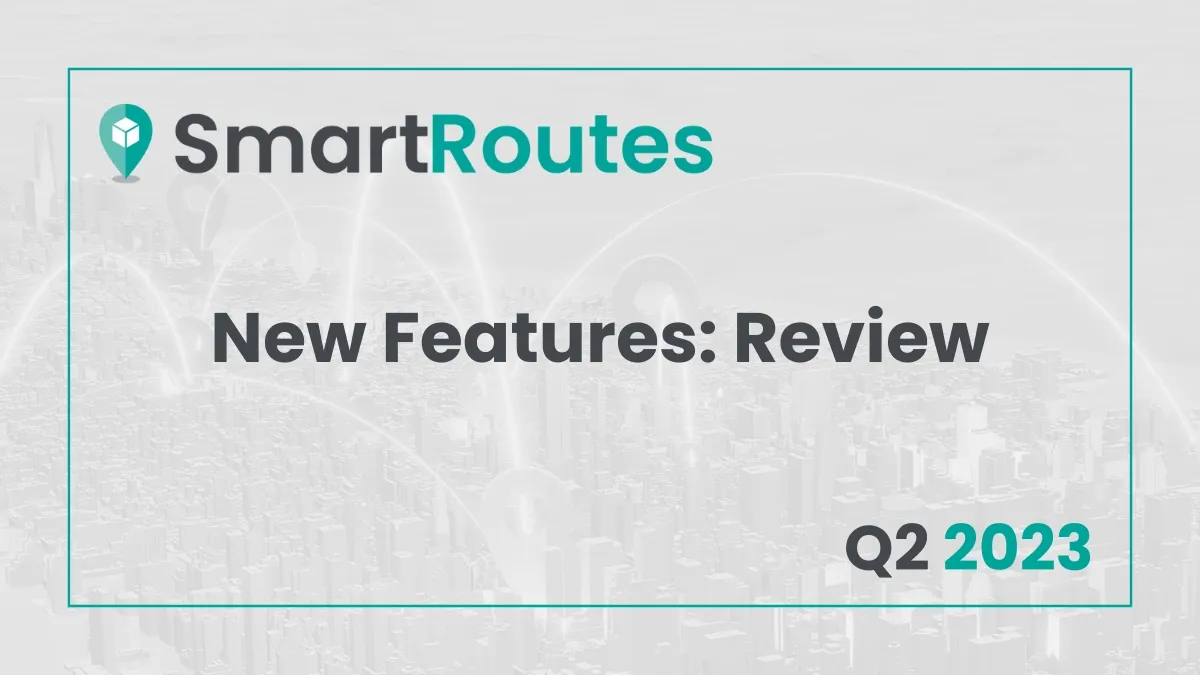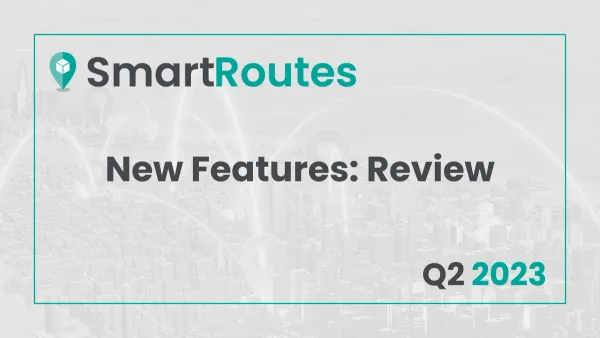 We are thrilled to share the exciting array of new features we have brought to our users in Q2 of 2023. This quarter has been an absolute whirlwind of innovation, as our dedicated team has been hard at work fine-tuning our platform to provide you with an even smarter, more efficient and delightful routing experience. In addition to our exciting new features, we are thrilled to announce significant improvements to various functionalities.
Read on to discover what's new on the platform:
Live Tracking
Our live tracking updates are now even more precise and accurate than ever before. With our latest enhancement, you can now view a live countdown that provides an estimated time of arrival for your deliveries. This live countdown feature is a game-changer for businesses and individuals alike. It allows you to plan and coordinate your schedules more efficiently, ensuring that you are always well-prepared to receive your deliveries. Whether you are eagerly awaiting a package or managing a fleet of vehicles, this new functionality will empower you with the knowledge and confidence to make informed decisions.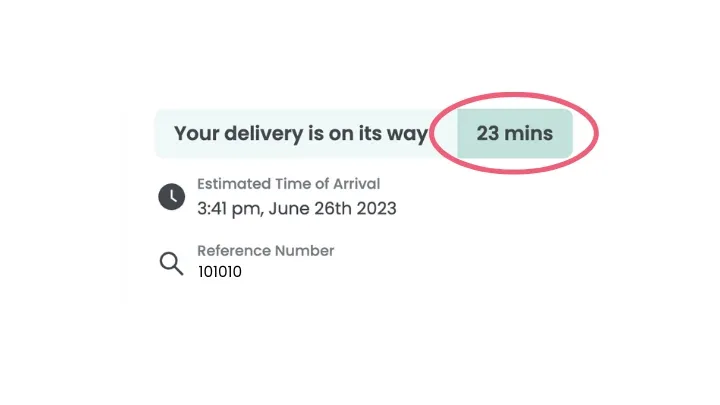 Vehicle Capacities
We have introduced a dedicated section for Vehicle Capacities in our settings menu. Here you can effortlessly set the maximum number of stops per route for each of your vehicles. By defining these limits, you can ensure that your vehicles are assigned an appropriate number of stops that align with their capacities and operational constraints. This helps prevent overloading or underutilization of resources, leading to more balanced and optimized routes.
But that's not all! We have gone a step further and added the ability to set custom capacities based on specific parameters such as weight, number of palettes, or any other relevant metric that aligns with your operations.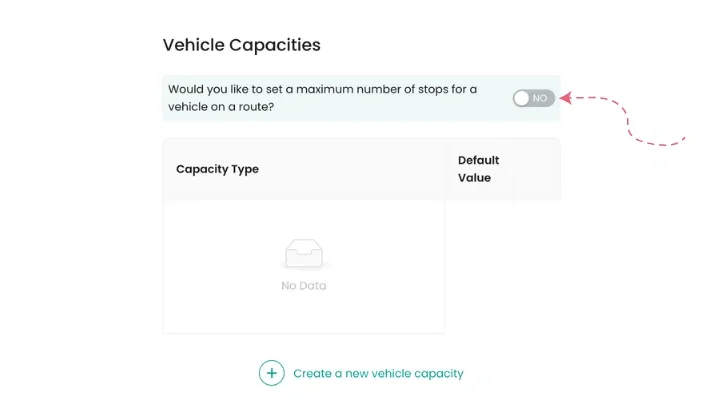 Failed Reasons
Understanding the reasons behind failed deliveries is crucial for effective troubleshooting and continuous improvement in logistics operations, which is why we have added the option to customize "Failed Reasons," that appear in your Drivers' apps. With this functionality, you now have the ability to create customized reasons that drivers can select when a delivery cannot be successfully completed. Reasons such as "No one home," "Recipient refused delivery," or "Incomplete address."
When a driver encounters a situation that results in a failed delivery attempt, they can easily select the appropriate reason from a predefined list on their app. The selected "failed reasons" are captured and recorded in comprehensive reports, providing you with actionable data and valuable insights into the common obstacles your drivers encounter.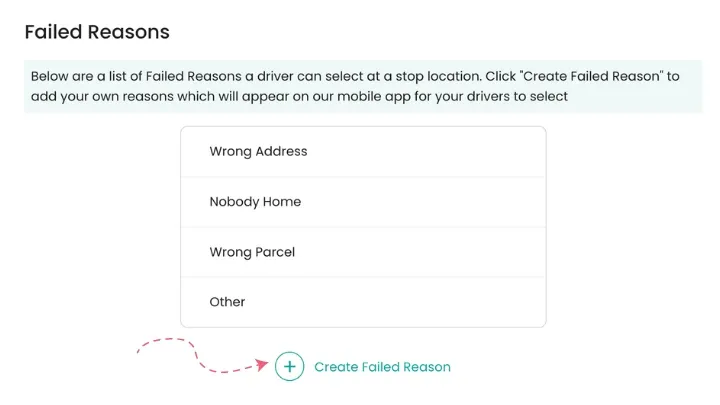 Choose Default Map
We have introduced a new feature that allows you to choose the default map provider for your drivers. With this feature, you have the flexibility to select between popular options such as Google Maps, Apple Maps and Waze, ensuring that your drivers have the mapping tool that best suits your specific needs.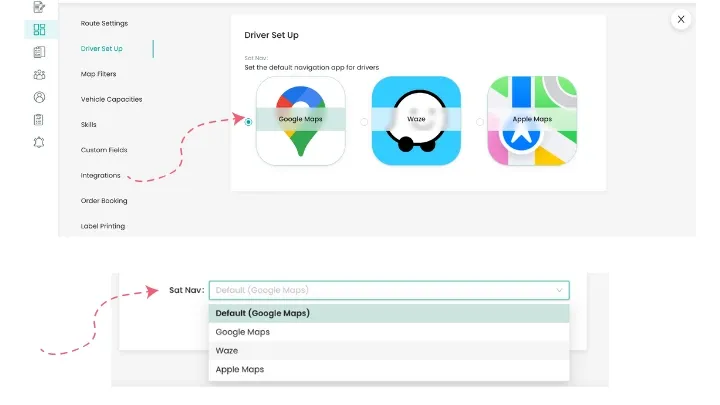 On Start Route
With this new notification option, you can now send notifications to your entire route as soon as drivers mark that they have started, enhancing communication and coordination like never before. The "On Start Route" notification eliminates the need for manual follow-up and individual notifications, saving you valuable time and effort.
SmartRoutes
Save time and money in delivery management. Cut carbon emissions. Get oversight on your fleet. Impress your customers with superb communication tools.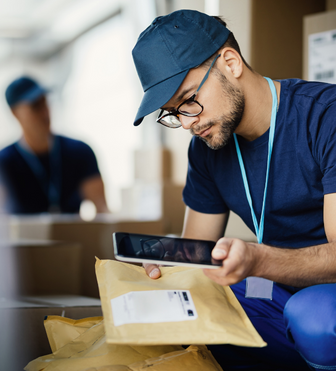 Order Booking Feature
For our existing customers, you may have already noticed the inclusion of the "Order Booking" option in the settings menu. To take advantage of this feature, simply reach out to our dedicated support team, who will be more than happy to enable it for your account. Our support team will guide you through the setup process, ensuring a seamless transition and a smooth integration of this powerful feature into your existing workflow.
The "Order Booking" feature is designed to simplify the order management process, allowing you to send booking confirmations to customers allowing them to accept delivery time windows directly.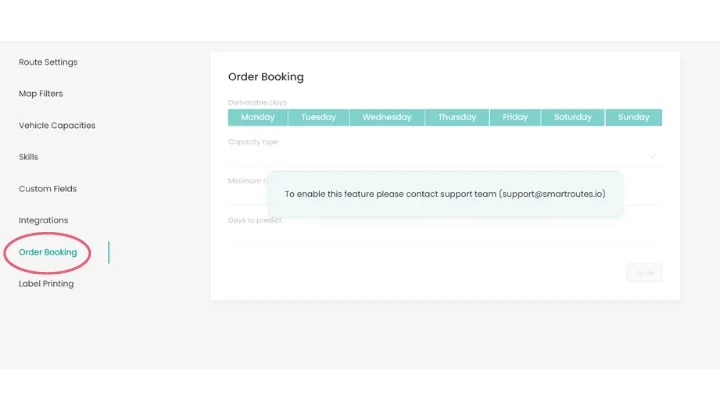 Route Details - Expanded
With this feature enhancement, you can now access all relevant details about a route conveniently and efficiently, further streamlining your logistics operations. From essential details such as the order ID, planned arrival time and planned duration, everything you need to know is conveniently displayed in one place.
One of the exciting additions to the expanded "Route Details" feature is the introduction of a map view. This map view provides a visual representation of the exact delivery location on the route, as marked by the driver.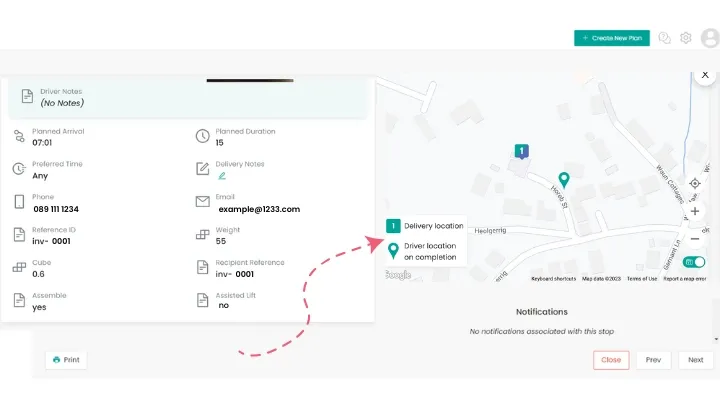 Show Live Times
With this newaddition, you now have the ability to toggle on the "show live times" option, transforming the way you visualize and analyze the progress of your routes. The live dashboard has always been a valuable tool for monitoring the planned times along a route. However, with the "Show Live Times" feature enabled, the bar representing the route's progress is dynamically updated to display the actual time spent at each stage along the route.
This real-time update of the bar provides you with instant visibility into the progress of your drivers and their adherence to the planned schedule. By comparing the planned times with the actual times, you gain valuable insights into the efficiency of your routes and can identify areas where adjustments may be needed.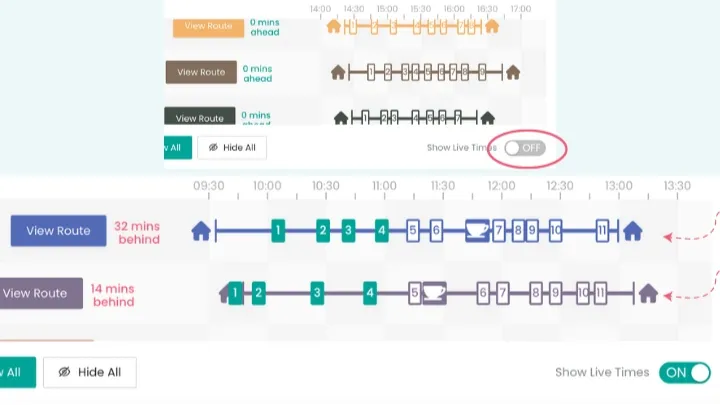 Lock a Route
With this feature, you now have the ability to lock specific routes, ensuring that they remain untouched while you make changes and optimize other routes.
Locking a route is as simple as clicking on the lock icon associated with the route you wish to protect. Once locked, that particular route becomes immune to any modifications or optimizations you perform on other routes within your fleet. This means that you can freely make adjustments, re-optimize routes, or implement changes to improve overall efficiency, all without affecting the locked routes.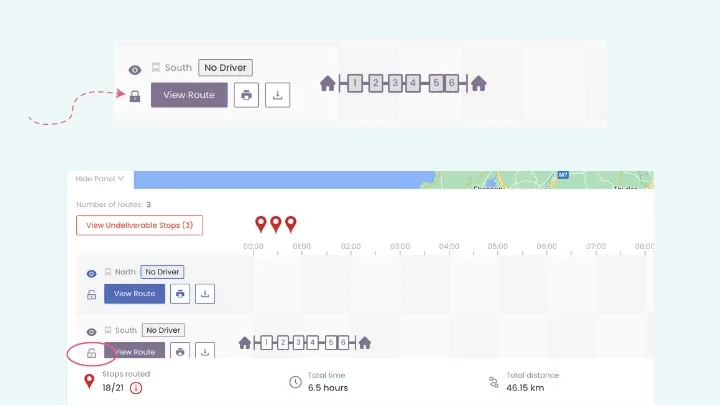 Start Optimizing Your Delivery Process Today with SmartRoutes
From live tracking with accurate countdowns to customizable vehicle capacities, failed reasons, default map choices, enhanced route details, live times display, and the ability to lock routes, our platform is constantly evolving to meet your needs. If you want to keep up to date on new features and platform upgraded, make sure to follow our changelog on Twitter.
Now is the perfect time to experience the power of SmartRoutes for yourself. We invite you to take advantage of our 7 day free trial, where you can explore all the innovative features and capabilities we have to offer. By using SmartRoutes, you can optimize your delivery processes, reduce costs, and maximize efficiency. Our user-friendly interface, comprehensive features, and dedicated support team ensure that you have everything you need to succeed in the ever-evolving logistics landscape.
If you enjoyed this blog, you might also be interested in: