Food delivery logistics: Case Study
Food delivery logistics are critical in successfully planning getting food direct to people's houses or businesses. Here we look at a case study on Brady Family Ham.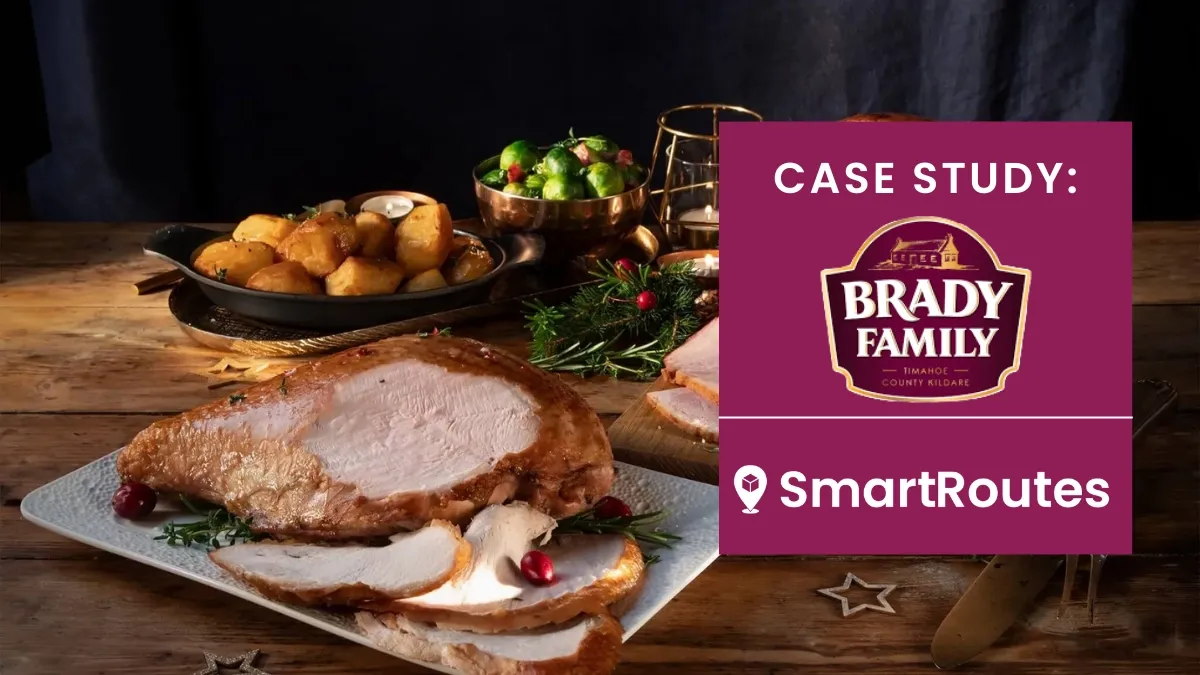 Introduction
Food delivery software is at the core of getting food direct to customers from suppliers big and small. The huge uptick in home grocery deliveries since Covid plus the general trend towards food delivery over the past decade are resulting in much better customer experiences with food delivery including more accurate time windows for delivery and same-day or even same-hour deliveries. Here we take a look at a specific case study relating to seasonal demand for a particular food item and how it is expedited with software delivery route planning. The tradition of Brady Family Ham in Ireland goes back over 40 years. In that time, they've become synonymous with quality products and won countless awards for their taste and flavor.
In recent years, they had offered a popular home delivery service in the run-up to the holiday season. This allowed customers across Ireland to order their hams and turkeys for the traditional Christmas Dinner. But 2020 was no ordinary year, and with unprecedented demand, they needed help to ensure the success of the service.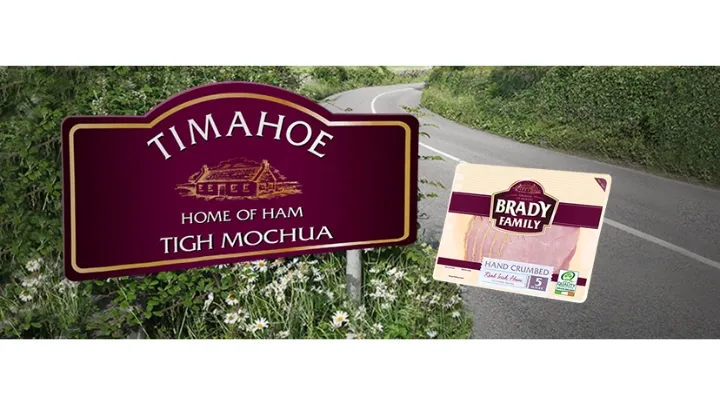 What we will take a look at in this case study:
The challenge of food delivery logistics
In 2020, Irish consumers turned to online shopping and home-delivery services like never before. In fact, two in five people say they began shopping online for the first time at the start of the pandemic. As a result, Brady Family Ham saw online orders for their Christmas Hams and Turkeys reach much greater numbers than that of the two years previous that they had also offered the service.
The logistics of delivering chilled, perishable food products had its own unique set of challenges. This year, Brady Family preferred to take control of deliveries themselves to ensure the best customer experience
To guarantee successful deliveries to all customer, excellent customer experience, and to ensure their staff were equipped for the task at hand, a solution was needed that would allow them to manage the entire distribution project in an efficient and stress-free way.
How to deliver food successfully
When Brady Family Ham approached us, we quickly set about establishing how they would organize and execute this direct-to-consumer operation in a short timeframe.
Having established the challenges above, we knew that we had the delivery route planning software features required to make this seasonal project a success. We worked directly with Niall, who despite not being a logistics professional, was able to quickly get to grips with SmartRoutes intuitive Desktop Route Planner. Some of the key features that contributed to the success of this project were:
Route planning from excel file
Before onboarding with SmartRoutes, Brady Family Ham had collected all of their customers orders and associated details in a spreadsheet:
Within the Desktop Route Planner, they were able to simply upload this file, and automate the creation of routes without having to input the information associated with each order.
In doing so, it meant that all of the customer-generated information was attached to each order for both the administrator and the driver. This saved hours in manually uploading stops and inputting the relevant order details.
Territory management and route optimization
As this was a season rather than year-round venture, Brady Family Ham needed to hire a fleet of temperature controlled vans and additional drivers.
SmartRoutes Zoning feature allowed them to create zones specific to each driver's knowledge of a particular area, and this, in turn, ensured that their delivery routes were all assigned within these borders. This was a feature that allowed them to capitalize on the existing employee experience.
Dispatch & Driver Notes
The service offered individual turkeys and hams, as well as a combination package to the customers. At the point of order on Brady Family Ham online store, customers selected which offer they wanted and made their payment.
When uploading the customers' data through the CSV/Excel file, this information was included with a reference number for each delivery. By including this information in the spreadsheet, meant that when routes were sent to Drivers SmartRoutes Mobile App, each delivery had the dispatch note which included the order type and the associated reference number. This ensured that the correct products were successfully delivered to each customer.
Similarly, the ability for drivers to record photo proof-of-delivery and their own driver notes on deliveries, meant that live data on orders was relayed directly to the Desktop Route Planner, where the admin team instantly could resolve any issues or reschedule deliveries.
The perishable nature of the goods meant that all deliveries needed to be delivered directly to the customer. The ability to call customers directly from the Driver Mobile App also saved drivers time and kept the rate of undeliverable stops to a minimum.
Customer Delivery Notifications
To further guarantee successful deliveries, SmartRoutes gave Brady Family Ham the ability to send customers advanced notice of delivery with planned ETA's. By giving customers notice of the delivery time a day in advance, it allowed them to make themselves available to take delivery or arrange an alternative time that suited both parties.
Live Vehicle Tracking & Real-Time ETA's
As mentioned, Brady Family Ham had hired a fleet of vans to complete the Christmas delivery project. This meant that they would not have the benefit of pre-installed GPS trackers.
However, the SmartRoutes Driver App is equipped with in-built GPS tracking which gives a live, accurate feed of all vehicle locations to the Live Routes Feed on the Desktop Route Planner.
This meant that the project administrator had full oversight of live routes and the Customer Support Team was able to handle customer queries around ETA's instantly without having to contact drivers, leading to distractions and delays.
Results
Although Brady Family Ham had experience in wholesale B2B deliveries, this was their first time undertaking direct-to-consumer deliveries themselves.
Over the course of the project, SmartRoutes Delivery Route Planner helped to complete a significant volume of nationwide deliveries with multiple drivers and vehicles.
The measure of a successful project was successful deliveries, easy planning and project management, and entirely positive feedback from customers and drivers.
If you have any seasonal or ad-hoc home-delivery projects you need assistance with, feel free to get in touch using our contact form below and we will be happy to discuss how SmartRoutes can help:
100% Delivery Success
Through great planning and utilizing all of SmartRoutes features effectively. Brady Hams ensured the successful delivery of all goods directly all their customers
Unified Communications
The combination of SmartRoutes Desktop Route Planner and Driver Mobile Apps, delivered clear communications between project admin, driver, customer support staff and customers
Happy Drivers
The success of any home deliveries is dependent on happy drivers. SmartRoutes mobile app gave drivers full visibility of their routes in advance, and navigation & dispatch notes, making their job easy

Stress Free Project Management
By having all the tools required on one intuitive desktop route planner, managing the project was simple. This was key to success with some staff working from home
Do I need a delivery route planner?
Many clients come to us after running into difficulty trying to successfully plan delivery operations or after finding the outsourcing option unsatisfactory. It is a good exercise to look at your operations overall and see if there are some red flags that might indicated a delivery management system would help you. To this end, do you currently have an issue with:
Do you have problems visualizing your stops or customers in order to assemble delivery routes?
Are you sure the routes your drivers are taking are the most efficient so you don't overspend on fuel, salaries and waste time?
Do you know where your drivers are once they leave the shop or depot? Do you know what they are doing?
Are you able to accurately predict delivery times for your customers so they don't have to stay home all day waiting for you to arrive?
Have you a way to auto-text or email your customers information about their delivery?
Can you prove that a delivery took place and do you have a record of that in case their is a query on it or for reporting purposes?
Can you give your customers a live-tracker map of where their package is exactly?

To read more case studies you can check them out on our Customer Stories page. If you would like to know more about our services then you can contact us here and a member of our team will be in touch!