CEO Interview - Goodfirms
A recent interview with our CEO, David Walsh by Goodfirms looks at why SmartRoutes is the leading delivery management platform today.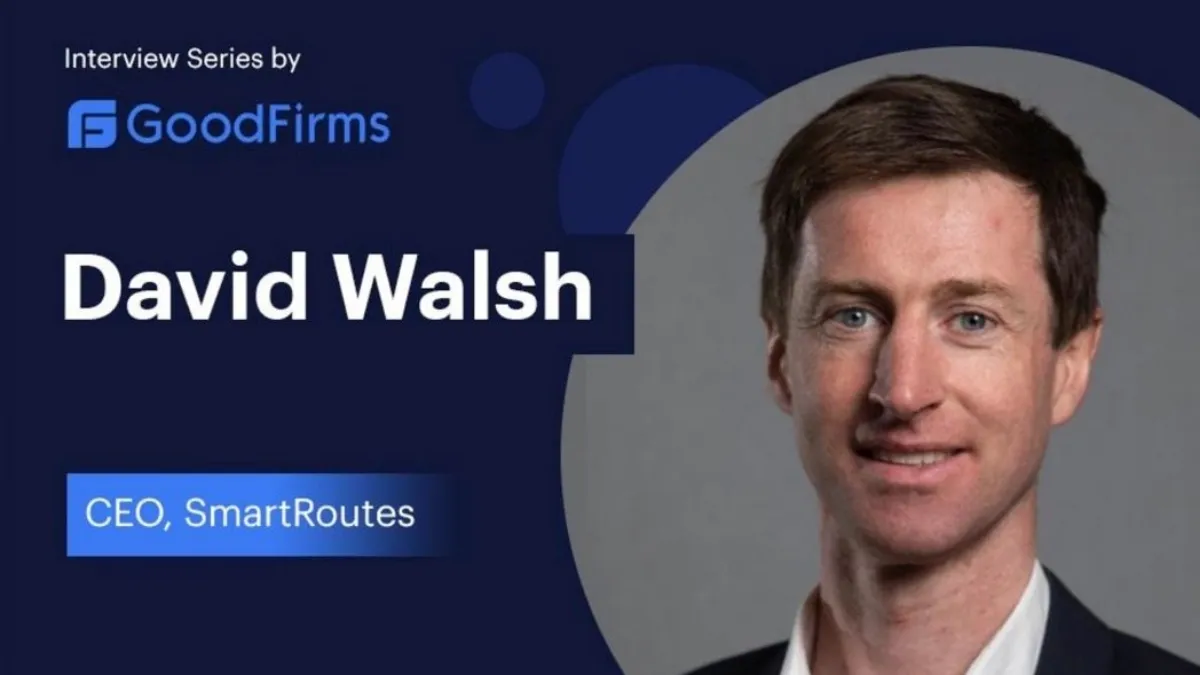 Interview Article - David Walsh, SmartRoutes
David Walsh, CEO of SmartRoutes, shares in his interview with GoodFirms how they created this best-in-class route planning software to fulfill the broad delivery management needs of small to medium-size businesses with its innovative design, ingenious features, and amazing functionality.

"Our goal is to position SmartRoutes as the number one, internationally recognised, route planning software and become customers' preference among the market leaders with our versatile feature set, intuitive user interface, and value-based pricing model"
         - David Walsh, CEO, SmartRoutes
Headquartered in Cork, Ireland, SmartRoutes is a route planning software and a complete delivery management system designed to streamline and control route planning and delivery management operations for small and medium businesses. The software is created particularly for logistics companies, dedicated couriers, same-day delivery companies, and freight operators. It is also helpful for distribution or logistics teams within large corporations like grocery chains, newspaper outlets, pharmaceutical corporations, and more; basically, any business responsible for fleets that deliver to customers or the public, a local florist to a food delivery firm.

The software offers extensive features like dispatch management, driver management, courier management, freight management, restaurant management, customer portal, route planning & scheduling, route optimization, traffic awareness, work order delivery, vehicle maintenance, vehicle diagnostics, reporting & analytics, wireless dispatching, GPS location tracking, routing alerts, and route simulation. The software additionally helps streamline eCommerce selling for its customers and allows them to automate and dispatch deliveries locally.

SmartRoutes offers a flexible pricing model. The customers can choose between various packages according to the features, number of vehicle licenses, custom integrations, and many more options based on their business needs and budget. It thus allows need-based pricing and enables overall cost reduction.

GoodFirms interviewed and discussed the detailed offerings of SmartRoutes software directly with David Walsh, CEO of SmartRoutes, to learn more about the software. David is the founder and lead developer for the product right from its inception. His role involves building the development team, sales, and marketing.

"We are perfectly positioned to challenge some of the larger and more expensive vendors in the market," noted David.
Versatile Route Planning Software
Initiating the interview, David describes SmartRoutes as a total delivery management software for anyone, from small businesses to large logistics teams. The system allows businesses to plan and optimize their delivery routes while tracking drivers and capturing/monitoring proof-of-delivery. SmartRoutes route planning software keeps recipients informed of their delivery with real-time notifications through the delivery tracking portal.

David adds that implementing a smart delivery management system like SmartRoutes saves logistics teams time and money, increasing efficiency and reducing fuel costs. It also helps improve control and insights into last-mile operations.

When questioned what motivated the company to create SmartRoutes software, David explains that the cost of getting goods from the local depot to customers' doorsteps is the same as it is to get those goods around the world from their initial manufacturing location. The last mile is complex and depends on many real-world variables like traffic, human drivers, and legacy transport infrastructure. So, the purpose of this software is simply to fix this problematic area of the global economy, last-mile operations. David elaborates that SmartRoutes is designed to help businesses minimize these challenges and deliver efficiently. It enables the customers to:
Save time on planning 30-50%
Save money 33%
Increase efficiency to save money or make more deliveries
Improve processes
Delivery management features
David further elucidates that users love SmartRoutes as the software is simple, intuitive, and affordably priced. Its unique features include a super-simple and user-friendly interface, a comprehensive yet inexpensive solution, and incredible customer support. Besides, it is highly configurable to match the varied needs of businesses. The company provides diligent customization for any changes the customers want in the product.
When asked what value addition SmartRoutes offers to its customers, David adds that the company has worked incredibly hard to build a product that matches the competitors in terms of functionality suite. Also, they have focused on building a highly intuitive app experience for drivers and dispatch teams, adding significant value from other similar products. He clarifies that user experience is essential here because driver adoption of the tech is dependent on how simply they can learn and use it while out on the road.
Moreover, the software value is a function of cost, David adds. So, the company has cut its margins as tight as possible to render much more functionality to the customers at a lower price than the competitors.
Customer Satisfaction and Retention
Further, in the interview with David, we discussed customer satisfaction and retention for SmartRoutes. David revealed that their churn rate on enterprise clients is 0%, and churn on smaller businesses is also below 2%, indicating a high customer satisfaction rating. He corroborates that when customers have issues with anything, the company's support team reacts very quickly to resolve the issue for them.
He also adds that while the customers typically continue with them, they have seasonal customers too, such as Christmas tree deliveries, that return year after year. Such a seasonal customer base is small but is rapidly growing every year.
Dedicated Customer Support
Talking about customer support, David explains that their highly responsive support team is available for the clients at all times, ensuring that no open requests go unnoticed by the development team. Moreover, the company leverages these customer queries as a product roadmap, discussing the same in detail in quarterly meetings between the sales, product, and development teams.

Furthermore, the company maintains a knowledge base accessible from their web platform that helps new and existing users to learn about features and finesse their processes. They also provide an onboarding manual to familiarize customers with the product. Additionally, their support and onboarding teams conduct onboarding meetings with the new customers.
SmartRoutes - The Best Route Planning Software
SmartRoutes is emerging as a market leader and popular choice for businesses looking for route planning software. GoodFirms researchers have endorsed SmartRoutes as one of the best route planning software for its customer-friendly interface, multi-industry functionality, a higher degree of customizability, versatile features, diligent customer support, and flexible yet reasonable pricing.

To know more about the offerings of SmartRoutes, one can also go through the detailed interview published at GoodFirms.
About GoodFirms
GoodFirms is a Washington DC-based research and review platform for software and services. GoodFirms empowers companies to choose the best software from its curated list of industry-leading software in various categories to enhance profits and grow beyond imagination. It performs extensive research and analysis to evaluate and rank the listed software on critical parameters like features, uniqueness, ratings, and verified user reviews. This diligently curated ranking highlights the top performers for every software category and boosts the buying credibility of the software.
About the Author
Lisa Brian is presently working as a Content Writer with GoodFirms, a Washington-based B2B research company well-known for its research methodology and listings of 60k+ software and services. Lisa's current role revolves around gathering information and crafting it in a meaningful form that businesses can leverage. She helps companies communicate their vision and mission through digital platforms. Lisa believes in developing a symbiotic business relationship where companies mutually support each other and grow together.