The 5 Best Route Scheduling Software Solutions for Business
In this guide, we'll walk you through exactly what route scheduling software is, how it works, and what different variations are available on the market to best suit your needs.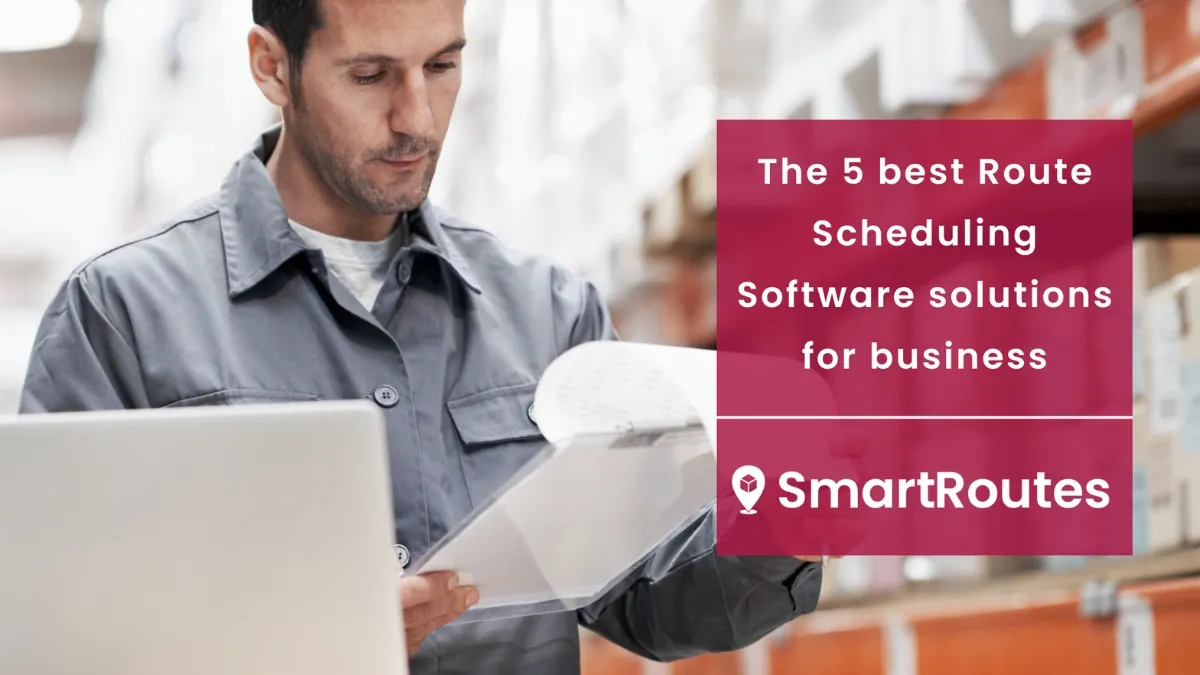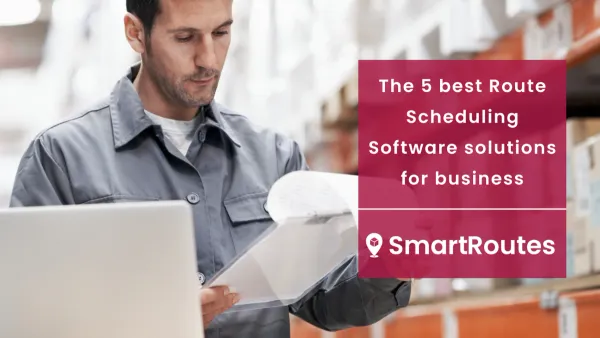 If you were asked to think about how big companies like FedEx or UPS devised their routes for their drivers pre-computerized era, you might begin to imagine something like a big room, with a large team of logistics planning professionals huddling around a ridiculously big map.
One big map on a table, lots of drop-pins, and lots of workers arguing about the best way to divide deliveries and routes amongst drivers.
Believe it or not, this was the norm and the best way to ensure that routes were as efficient as possible, and arrived on time, was simply to hire folk with the best knowledge of the area. Today, that looks much different and route scheduling software does the heavy lifting for those logistics professionals.
As we've moved into the 21st century, and we have adopted the eCommerce and online shopping trend en masse, that volume of deliveries has become infinitely greater. In fact, between 2016 and 2022 alone, FedEx increased the number of packages they delivered from 1.93 billion to 3.1 billion annually.
And that 62% increase in parcel volume is replicated right across the delivery industry in recent years.
Now you might not be at the same scale as FedEx with your delivery operations just yet, but you may still need to implement a route scheduling solution that ensures your route planning is as easy and pain-free as possible, and that your customers receive their deliveries at the agreed time (deciding what exactly that time is will also form part of the solution.)
In this guide, we'll walk you through exactly what route scheduling software is, how it works, and what different variations are available on the market to best suit your needs.
Why is Route Scheduling Software Important?
5 of the Best Route Scheduling Software solutions for your business
Why is Route Scheduling Software Important?
As we just touched on, route scheduling software is key to running an efficient and professional delivery operation in the 21st century. The most obvious benefit of the technology is its ability to save business hours in both manual route planning, and in the distances traveled by drivers on the routes themselves.
As the name suggests, its core function is to schedule routes to start at a specified times for any number of vehicles and drivers and provide a whole host of important information in a matter of seconds, such as:
At its most basic, these core functions of a scheduling tool can make or break a business's logistics operation. But the advantages of scheduling deliveries electronically can be far more wide-reaching:
Better, more honest communication of delivery times to customers leads to a better delivery experience
Less stress for customer support staff when dealing with customer queries leading to enhanced employee satisfaction
Optimized routes that can reduce distances traveled by up to 33%
As you can see, beyond eliminating the chaos caused by not having any scheduling process in place for drivers, it can transform a delivery service from operation at best, to a professional and seamless part of your business that customers can recognize and appreciate.
Now the hard part of all this can be choosing one of the many solutions on offer to cater to your own specific business needs.
We're going to take care of that right away with a breakdown of the best the market has to offer.
5 of the Best Route Scheduling Software solutions for your business
1) SmartRoutes
Yes, that's us!
SmartRoutes has been at the forefront of developing route management software in recent years, and we've worked closely with industry leaders to make the scheduling functionality of our software the very best fit for the delivery business the very best it can be.
The flexibility of the solution allows users to schedule routes in a number of different ways:
Addresses/Orders can be imported manually by the user on our Route Management System and then optimized for maximum efficiency
Addresses/Orders can be imported in bulk using a CSV/Excel upload file
Addresses/Orders can be imported automatically from your existing eCommerce (e.g Woocommerce & Shopify), Order Management System, or Warehouse Management system using a custom API integration
The Best Route Scheduling Software Solution for you Business
Save time and money in delivery management. Cut carbon emissions. Get oversight on your fleet. Impress your customers with superb communication tools.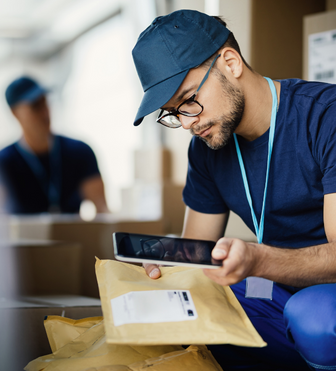 While the third of these solutions is the most efficient, all of them represent a transformational impact on any type of scale of business that operates vehicles on multi-stop routes.
When scheduling routes, there are also other useful options like setting driver start times, break times, vehicle parameters such as load capacities, and smart territory management that helps to utilize drivers' existing knowledge of specific areas and customers.
However, for us, scheduling is only part of the puzzle and is just one function of our wider digital delivery ecosystem. Fleet Tracking, Automated Customer Notifications, Delivery Driver Apps, and Proof-of-Delivery also complement the route scheduling capabilities of our software.
With our solution for small businesses starting at $29 per month, we have a robust solution for everything from owner-drivers, to enterprise-level delivery organizations.
Check out the full list of features available.  
Pros: Easy-to-use, route optimization as standard, 5-star customer support
Cons: None (but of course, we would say that!)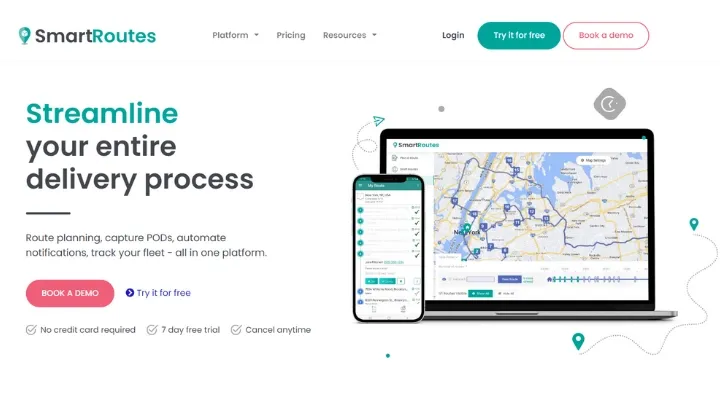 2) Route4Me
Route4Me bills itself as a route optimization tool that helps bring order to early morning routing chaos.
Since 2009, they have built a reputation for building reliable routing software that helps a wide variety of businesses. For example, listed on their website they include:
Courier Services
Gutter Cleaning
Maid Services
Snow Removal
This wide array of supported industries illustrates just how adaptable they have become to the market and the flexibility they offer.
On the downside, it's not cheap.
Their most basic package runs at a minimum of $199 per month, and adding route optimization to your package will bump that up to a minimum of $249 a month.
At these prices, you may need to consider the return on investment the software will bring to your business.
Pros: Flexibility & Reliability
Cons: Cost, Dated/Obsolete User Interface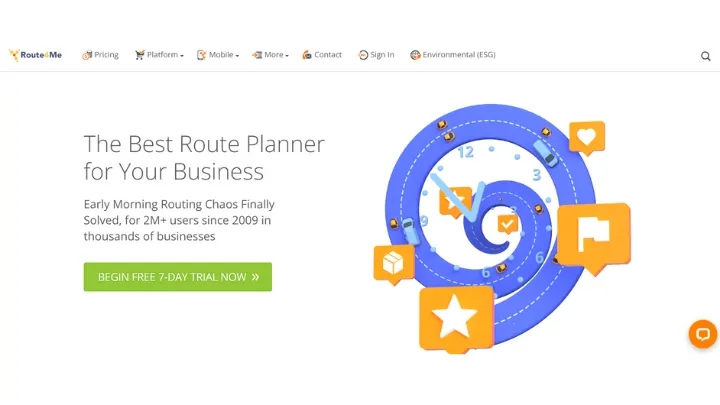 3) OptimoRoute
OptimoRoute is a US-based route planning tool that helps businesses to 'organize the mobile workforce'.
Unlike their counterparts at Route4Me, their offering is tailored very much to the needs of the logistics industry. As a result, the solution has found favor with logistics managers right across the US over the years.
There's no question about it, their solution is steadfast and has gained a great reputation amongst its customers.
If there is a downside to their solution, it might be a bit too much for someone without any experience with logistics software. At first glance, the desktop planner is a little clunky and can be a bit overburdening for non-professionals.
The solution has all the features you could need, but if you're looking for an out-of-the-box solution that you can get to grips with the right way, you might be best to look elsewhere. If you're tech-savvy and up for it, it is a great solution though.
In terms of pricing, it starts at as little as $39 per month, so it won't break the bank to try it out for a period of time to see if it fits your needs.
Pros: A stacked set of features, reasonably priced
Cons: Over-complicated user interface & no apparent direct customer support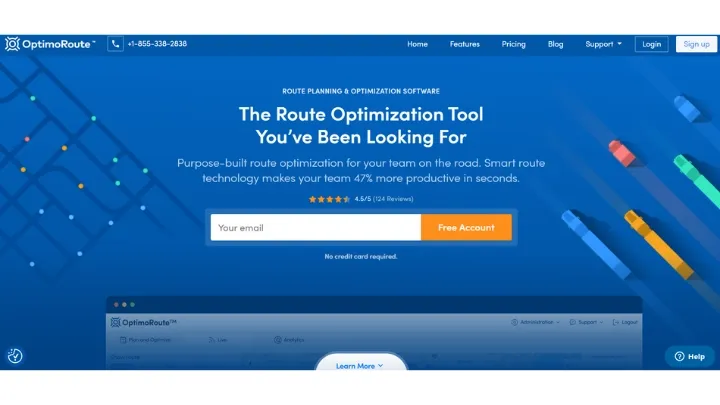 4) Routific
Routific is a route scheduling solution that we like a lot.

Like SmartRoutes, their solution has a modern feel to it and is definitely quicker and easier to get to grips with than others on this list. Built by a team of young developers with an eye for design, using the tool is much more intuitive and feels more like you've logged onto Facebook or Twitter rather than logistics software.

While the core functionality and its suitability for your particular use case should be the main deciding factor in the scheduling tool you ultimately use, there is a huge advantage to a tool that everyone from the route planners to the drivers enjoys using.
Without adoption and satisfaction with the tool amongst the workers in your business, you could end up in a loop of testing various tools and never settling on just one.
They also offer a 7-day free trial that is worth checking out, and their pricing models are much more transparent and reasonable than others in the market. At $39 per month for their 'Essential' offering and $59 per month for the 'Professional' package, you can quickly and easily decide which one suits you best.
Pros: Easy-to-use, innovative features, reasonable and transparent pricing
Cons: Only in-app support is available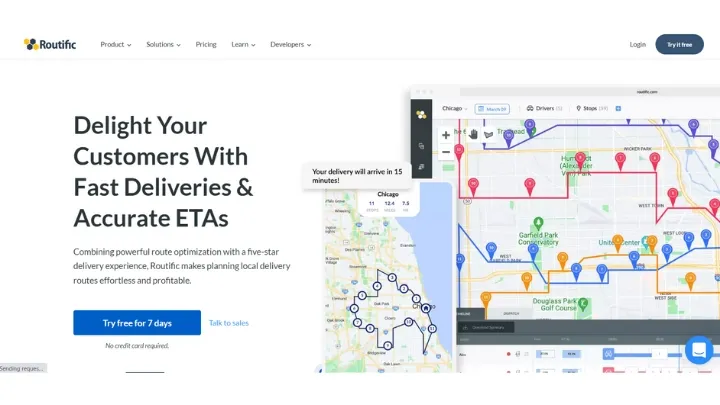 5) Go2Stream
Go2Stream is a slightly different solution from others on this list but may be suitable for your business nonetheless.
Go2Stream is a route scheduling software that caters to the larger enterprises with a number of depots that ship out goods. With map-based planning, trunk stocking, and cross docking capabilities, it helps businesses to be a good solution if there is a large team involved in the planning and management of routes rather than a small team.
While the solution might not look as modern as Routifics solution, it will do a lot more beyond day-to-day route management.
It also serves the basic features of what a fleet management software usually does like vehicle inspection/vehicle walkaround features.
If you're based in Europe or the UK, it is also useful to know that your support team is in a similar time zone if you ever do need assistance. This can be particularly important with more developed tools like this that can take longer to get up and running than you'd like them to.
Pros: Additional fleet management features, UK-based (others on this list are US)
Cons: More complicated to use, longer onboarding times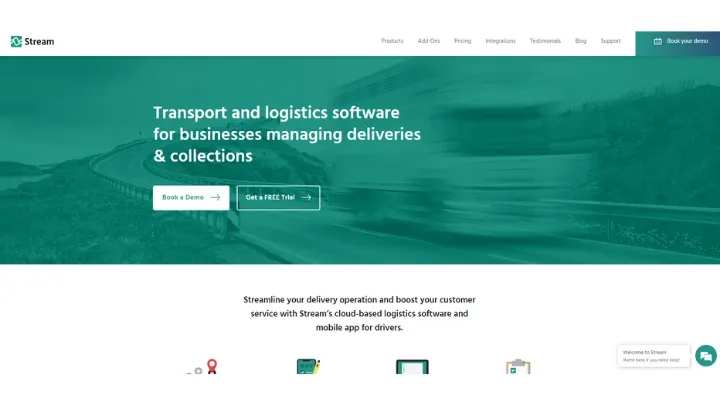 Choosing the right solution is more about YOU than the technology itself
While the tools we've looked at above are all great solutions in their own right, the decision on which is the best really comes down to a combination of your specific needs and personal preference. For example, if you're an enterprise-level business in the UK or Europe, it will provide a great deal of comfort knowing that help is at the other end of the phone at a moment's notice should you be required by going with SmartRoutes or Go2 Stream.
If it's a really slick user experience you need to get your staff onboard with the new solution, you might check out Routific.
All of the solutions listed offer some type of free trial to see if the product is the right one for you, and it's always good practice to compare at least 2 before making a purchasing decision.
One thing is for certain though:
Any one of these solutions will help you schedule routes more efficiently and effectively, transforming your business in the process.
Looking for a Route Scheduling Software Solution for you Business?
If you're unsure about which delivery schedule software is the best for your needs, you can get in contact with the team at SmartRoutes today to get a demo of the solution and a custom calibration/setup to see how it can work best for you. Our team is on-hand to help, so don't hesitate to contact us.
If you liked this blog you may also be interested in: