8 Best Truck Routing Software Solutions For Your Fleet
Truck routing software can cut route planning time and bring your trucks to new levels of efficiency. Find the best solution for your fleet in this guide.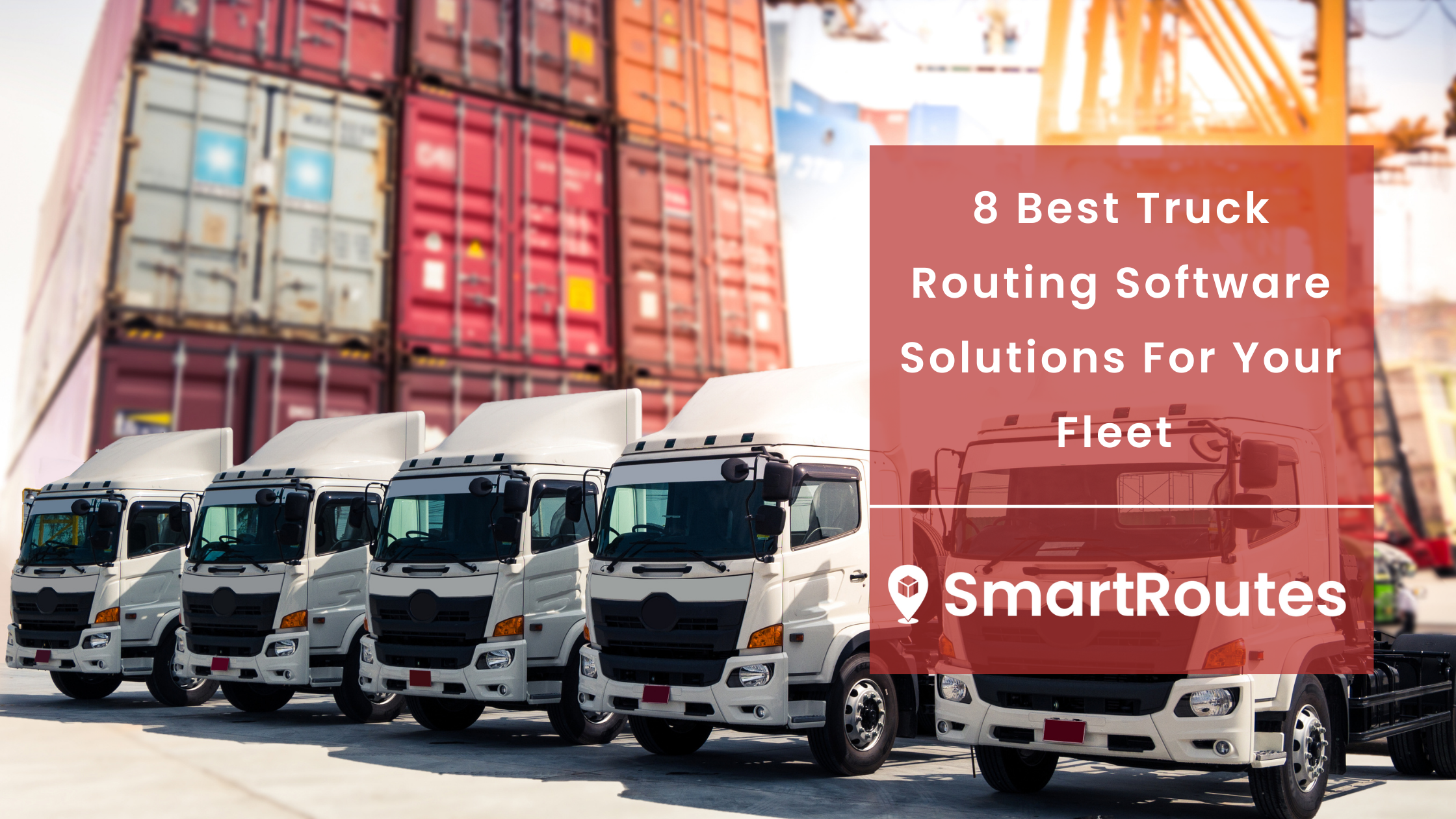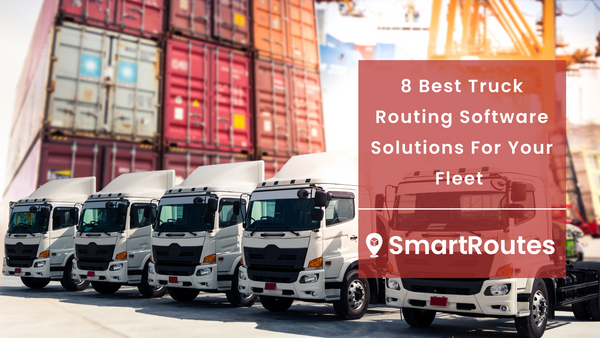 Throughout the United States, almost 1 million people make a living from driving a truck. That's a pretty staggering figure in itself, but when you consider that each of those drivers can cover anywhere in the range of 80,000 to 125,000 miles a year, the true work done by truckers becomes almost inexplicable. Taking the conservative estimate of that range, a quick calculation tells us that there are at least 80 billion miles being covered by trucks in the United States every year.

And while that might seem crazy in itself, it isn't even the craziest part.

The craziest part is that many of these miles are unnecessary!

Despite the advances in technology, many trucking companies have failed to adopt solutions that can save thousands of dollars in wasted time and miles traveled by using something called truck routing software.
What is Truck Routing Software?
Truck routing software is a solution that uses algorithmic computational power to devise the most efficient route for any number of trucks to take when delivering or collecting goods. The software solution does so by accounting for any number of parameters including (but not isolated to):

The number of stops
The number of trucks & drivers
The location of the stops
The quantities of goods to be collected & delivered
The road conditions/laws en route
Driver availability/mandatory break hours

To consider all these factors would take a transport manager days, if not weeks. Of course, this is not feasible for any logistics professional.

However, with the power of modern software, this can all be fed to a truck routing solution that will factor all this and give each driver the most efficient route possible in a matter of seconds through a process called route optimization.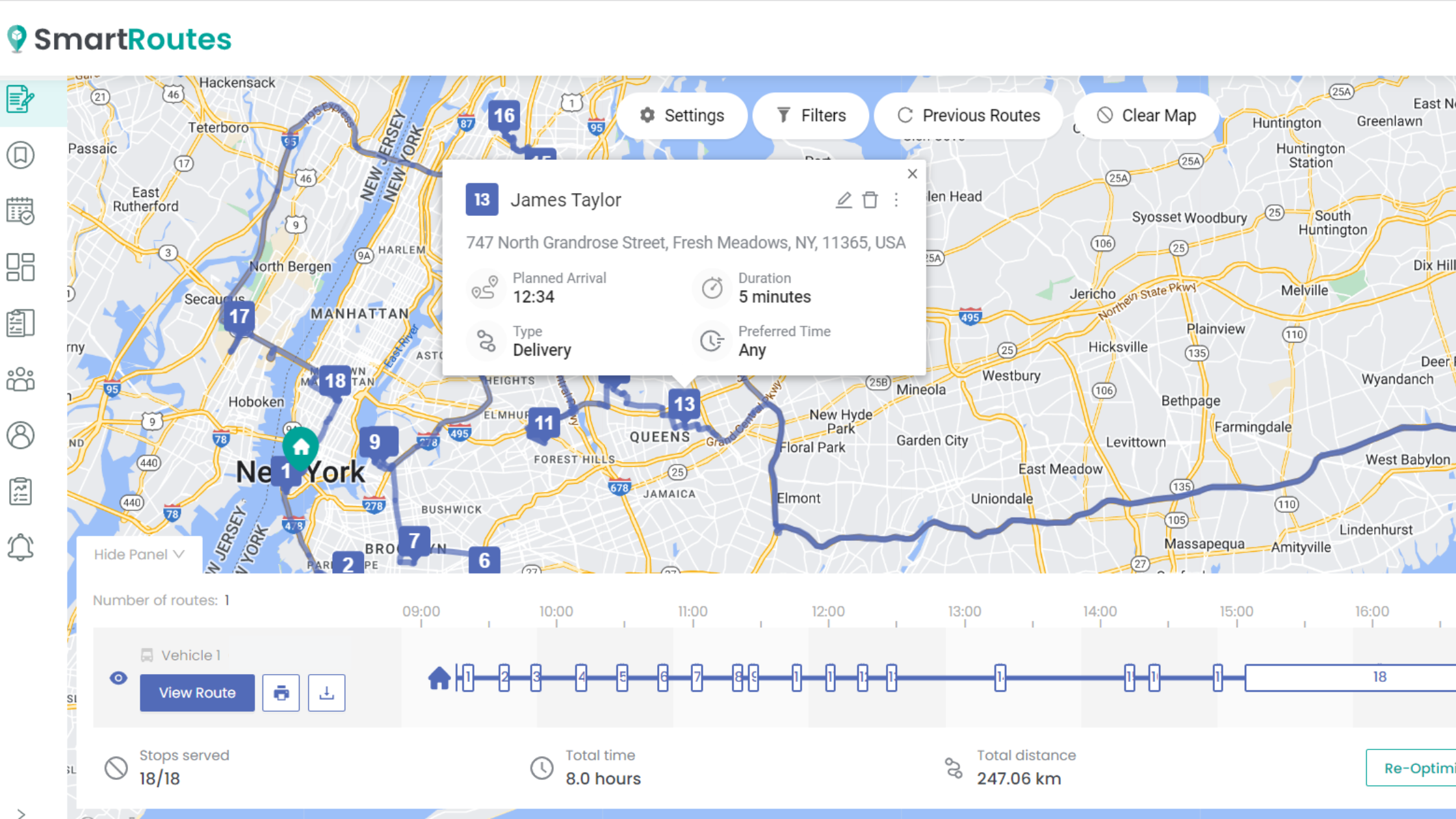 Why is Truck Routing Software Important?
Whether you're an owner-driver, or you're operating a fleet of 1,000 trucks, having a routing solution will save you hours of manual route planning every week, thousands of dollars in otherwise wasted fuel, and maybe even reduce your carbon emissions and bring a greener image to your business. While each of these factors alone should be enough to get you excited, the returns on all of these factors together can be transformative for any trucking company.

No matter what type of cargo you are transporting, profit margins are becoming tighter right across the board. An increase in fuel gas prices has pushed truckers to the limits at a time when bigger operators are cementing their market share and cutting rates with their economies of scale advantage.
While the advantages are many, the fact is that trucking software is now a non-negotiable for any size trucking business if they want to survive in a cutthroat financial business.

For that reason, we've taken a look at some truck routing software solutions in our list below to help decide which one is best for you.
The Top 8 Truck Routing Softwares
SmartRoutes

To remain impartial, we did consider not including our software in this guide.

But we've built a solution that we're rightly proud of and it would probably do you more of a disservice if we didn't include it.

SmartRoutes is a delivery management software that includes route planning and optimization at the core of what it does. The solution relies upon industry-leading routing technology that has been proven to help individual trucks and fleets to revolutionize their business.

As a cloud-based solution, it can be rolled out in a matter of minutes and have drivers onboarded with the driver app within a day. The solution combines the driver apps with a desktop-based planner that can create routes via an API that sends delivery and order details directly to it, or it can be done by importing an Excel/CSV and having optimized routes in seconds.

The beauty of the solution is that it is generally billed on a monthly subscription basis which allows you the flexibility to scale up or down depending on seasonality or fleet size.

What we also offer is great customer support and an easy-to-use help section within the software that can often help you overcome routing challenges in a matter of minutes.
Thinking of implementing truck routing software?
Save time and money in delivery management. Cut carbon emissions. Get oversight on your fleet. Impress your customers with superb communication tools.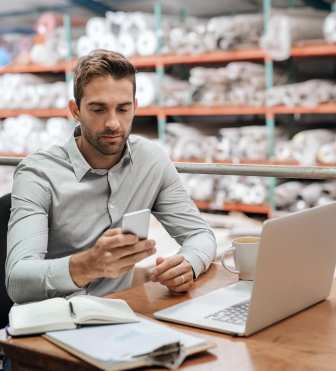 Paragon Routing

If you've been in the trucking game for a while, it's likely that you've at least heard of Paragon.

Paragon is one of the most established routing tools available and counts some big names like Royal Mail group in the UK and National Food Corporation in the US amongst their clients.

Their solution hosts all the basic features of routing and scheduling software that you might expect, including route planning and optimization, live route management, territory management and, proof-of-delivery.

If there is one drawback to Paragon, it is that it isn't what you might call an 'out-of-the-box' software. It is less agile than many more modern cloud-based solutions and as a result, the implementation and deployment can be a more costly and time-consuming affair.

Visually it is also a little more dated than more recent comers to the market, but that's not to take away from the core functionality which is well-regarded.

Workwave

Workwave is another of the more prominent players in the routing space.

They claim to have been supporting clients with last-mile solutions for 40 years. While they have branched out into other spaces in recent years like lawn care and pest control, they still offer a 'logistics & distribution dispatching' solution that helps trucking businesses with routing.

The solution is a little more modern in touch and feel than its Paragon counterpart, and it is very well reviewed by users online.  

If there is one downside to WorkWave, it's that it is a little more complicated than other solutions and can be harder to get to grips with. That said, if you have a large fleet, it may be worth getting to grips with it to enjoy the benefits of what it offers.

Unlike Paragon, it is also a web-based solution which makes it faster to roll out across your organization.
Sygic

Sygic claims to 'bring maps to life' with their GPS navigation solution designed with truck drivers in mind.
When putting together this list, we were keen to include truck routing softwares that put truckers front of mind when designing their solution. That is exactly what Sygic have done and it has resulted in a familiar-looking interface that allows planners to quickly output routes, and drivers to easily follow them.

Like SmartRoutes, it combines a desktop and mobile solution and one of its USPs is that it can also be used offline.

If you're operating trucks in areas with poor access to mobile data, this might be one that you give some consideration to!
PTV Navigator

So, here's the thing when it comes to truck route planners:

A one-size-fits delivery route planner just doesn't cut it.

Unlike delivering parcels with a box truck, a semi (or tractor unit and trailer for our European friends) can't necessarily take any available route a standard routing software might throw up. To give credit to PTV, they recognize this and ensure that 'truck unfriendly' obstacles like narrow roads, hairpin turns, and bridges can be avoided if that route isn't suitable for your trucks.

Although one of the lesser-knowns on the market, they have focused almost exclusively on trucking, and their solution reflects that. They list reducing fuel consumption, cost calculation, route compliance, and Co2 reductions as cores of their product.

Let's just say, we know a thing or two about the most pressing issues facing trucking companies and these are right up there.

They also offer quite a bit of flexibility in terms of integration, so if you're already using other technology solutions that you want to retain, PTV might be worth a shot!
MaxOptra

UK-based MaxOptra offers simplified route optimization that has proved popular amongst trucking operators in their own region.

Like SmartRoutres, they offer very flexible payment options and combine a desktop and mobile combination in their solution. In addition, they offer flexible roll-out options both remotely and on-site.

This kind of flexibility is invaluable to medium-sized trucking companies that might be in the early days of adopting a truck routing solution but still need quite a bit of support given their size. In fact, they specify that their solution is designed for fleets of 5+ vehicles.

Although they are UK-based, they count some notable US clients on their books like Krispy Kreme, so they are trusted worldwide.

Deserving of their place on this list!
TruckRouter

While all of the solutions listed so far are paid offerings, TruckRouter is free!

Now, that means there's going to be a lot of limitations, but it does quite a bit without you having to break out the credit card.

They offer truck-specific routes, info on weight and height restrictions, and also give reports on mileage and costs.

The biggest downside of the solution is that it is only desktop-based, meaning that it is pretty much useless while out on the road. Unfortunately, they don't yet offer a mobile-based solution or app.

However, if you're just starting out as a single truck driver, doing rural routes, it might just get you out of a hole!
Google Maps
Ok, so we're sure you've probably thought of this one already, but we think it's with its place on our list!

When rolling out technology, the learning curve can be the most difficult part for you and your drivers. However, almost all of them will be familiar with Google Maps.

That familiarity can be a big asset to your drivers as they navigate their route on the road. When it comes to route navigation, we have even integrated Google Maps onto our drivers apps so that they can follow their route on a familiar interface that they can trust.

What many might not know, is that you can plan routes with up to 10 waypoints on Google Map too by simply adding additional destinations. The biggest disadvantage over a dedicated trucking planner is that it doesn't optimize those same routes.

If you're an established trucking business, it's unlikely to meet your needs, but if you're starting out and need something easy-to-use, it's definitely an option.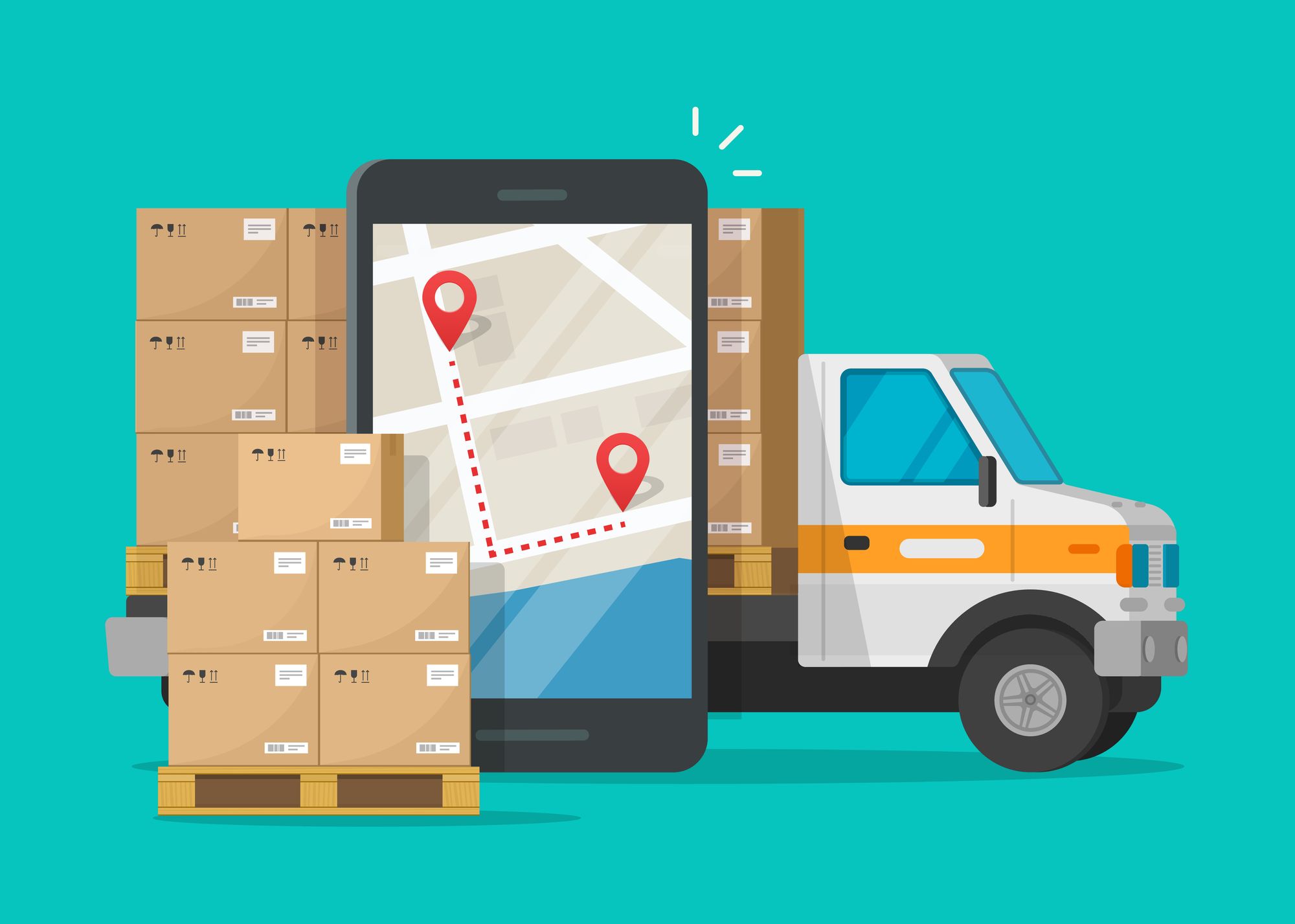 Closing
Implementing the right truck routing system for your business will require both an analysis of your own business and its needs and doing due diligence on the offerings outlined above.

While we're confident that SmartRoutes meets 99% of the needs of a trucking fleet, it is a good exercise to be mindful of every task and every challenge you meet in the course of a business week. There are often solutions to problems that you might not even see as problems. In fact, it is in solving lots of small problems that make the biggest difference to a business.

If you have a big fleet, a commercial routing software like PTV or SmartRoutes might be your best bet. However, if you need a bare-bones route optimizer, something like our starter pack which is less than $30 a month can be the quick and easy answer to your problems.
We're here to help you find the right Truck Routing Solution
If you're now intent on implementing a truck routing system as a driver or business owner, you can get in touch with one of our team today to discuss how we might be able to help. Our team combines both industry knowledge and technological experience and bouncing ideas off them can help you to find the right mix of features within our software for you.

We also offer a free 7-day trial with no payment details required so you can see if it is a fit for your business before you buy.